SUMMER NEWSLETTER
Please click here to view our Summer 2020 Newsletter. We wish you all a great Summer and will see you all in September!
LETTER TO PARENTS 14.07.2020
Please click here to view the latest letter to parents from John McNally, CEO of SHARE Multi Academy Trust.
LETTER TO PARENTS​​ 18.05.2020 - RETURN TO SCHOOL INFORMATION
Please click here to view our letter to parents regarding planned return to school arrangements for Nursery, Reception, Year 1 and Year 6 children.
CORONAVIRUS COMMUNITY PACK
Please click here to view the Coronavirus Community Pack from Kirklees Council. This pack is to support you and your community during the ongoing outbreak of Coronavirus, also known as COVID19. Within it you'll find a list of key contacts, resources and information in one place to support each other as much as possible during this time.
__________________________________________________________
SCHOOL CLOSURE - KEY WORKER INFORMATION
Please click here to view SHARE MAT letter regarding School closure.
CORONAVIRUS UPDATE 19.03.2020
Please click here to view our latest information sent 19.03.2020.
__________________________________________________________
URGENT COMMUNICATION UPDATE
As detailed on our Coronavirus information letter, School will be using the following forms of communication to send information to parents.
School Website, Class Dojo and MyED app.
It is imperative that parents register for Class Dojo and the MyED app immediately, to ensure that we can communicate with you and you can be kept up to date with school information.
School Website – search Heaton Avenue or go to https://heatonavenuepri-kgfl.secure-dbprimary.com/. News updates will be available on the News & Events Page.
Class Dojo
If you have not already registered on Class Dojo, we have sent a separate letter today, with instructions on how to download Class Dojo.
My ED
This is available to download immediately - go to your app store and search for My Ed and download the app.
If you require any assistance, please do not hesitate to contact the office. Thank you.
___________________________________________________
Please click here to view our Parent Information Letter regarding Coronavirus - 16th March 2020.
___________________________________________________
New advice from Public Health England.
Please note that we are following Public Health England's advice with regard to the above virus. Cleaning with specified products has been intensified. Surfaces, handrails, and toilets are cleaned more frequently throughout the day. Staff are advising students to follow the NHS guidelines printed below.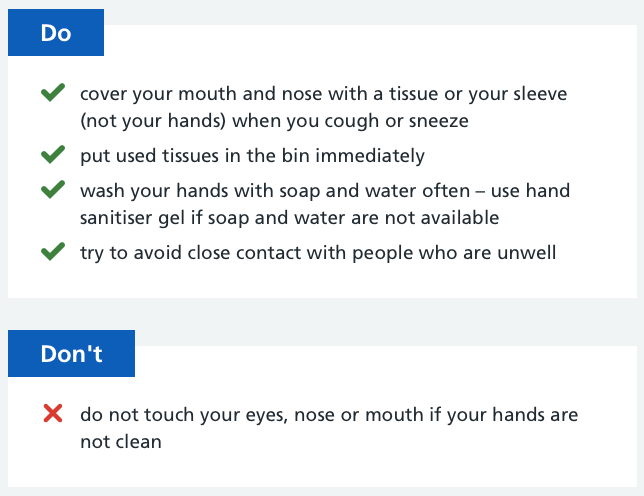 Department for Education Coronavirus helpline
Phone: 0800 046 8687
Email: DfE.coronavirushelpline@education.gov.uk
Opening hours: 8am to 6pm (Monday to Friday)
Click here to view the Public Health England advice on the Coronavirus for places of education.
_________________________________________________________
We are keeping abreast of changes to government advice about the Coronavirus. Please click here to ensure you have the most up to date information.
We hope the guidance provides you with some reassurance but please get in touch if you have any further questions or concerns.
Please help to support the campaign by following basic hygiene practices, such as regularly washing hands and always sneezing into a tissue, to stem the spread of viruses